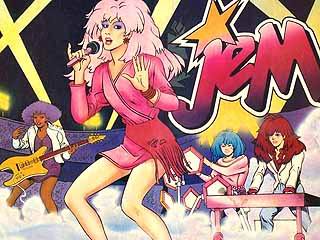 I was on facebook and I saw a quiz about cartoons in the 80's. Being an 80's kid, I did it and got 100%, as well as discovered JEM again. I used to watch it every Saturday. You know what is funny, it only lasted 3 years, but when you are young that felt like a long time. They even had dolls, but I wasn't into them as their heads and/or bodies were huge compared to a regular Barbie. It's nice to reminisce, sometimes grown up life can be so stressful and depressing and it's nice to remember a time when life wasn't so complicated.

Below is the Wikipedia write up:

Jem (stylized as Jem and the Holograms in some contexts) is an American animated television series that ran from 1985 to 1988 in U.S. first-run syndication. The show is about music company owner Jerrica Benton, her singer alter-ego, Jem, her band the Holograms, and their adventures.

The series was a joint collaboration by Hasbro, Marvel Comics, and Sunbow Productions, the same team responsible for G.I. Joe and Transformers. The creator of the series was Christy Marx, who also had been a staff writer for the aforementioned programs. The animation was provided by a Japanese animation studio called Toei Doga (now Toei Animation).

The show was originally designed to appeal to both girls and boys, with a mix of action/adventure, drama, music, and fashion. As the show progressed, the audience gradually became almost entirely girls.
I YouTubed it, so here is the first episode:
I am so going to watch all I can find.